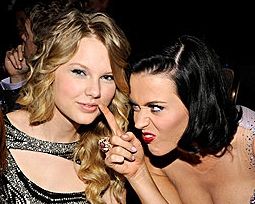 This one is easy. These two girls are different on so many levels.
Taylor is Sagittarius with her Moon in Cancer, it's ruler. She has a Capricorn stellium (much like Brad Pitt also a Sadge). No focal planets. Her goals are simple. Not ruthless or cunning in the conventional sense.
Katy Perry is a Scorpio with five planets (including her Moon in its detriment) and her nodes there. Also no focal planets Holy Cow! This girl is deep and passionate. But come on. Don't mess with anyone highly Scorpio. They take no prisoners.
Katy's still in that magical Jupiter period while Taylor has predictive Sun conjunct Saturn so her "all that" world has slowed a bit. But still she's holding her own in this feud. Katy can be brilliant and toxic at the same time. She eats men for lunch. Taylor is much more the viewer — taking life in and digesting it slowly. Both have jammed up planets within a few houses. So each is FOCUSED. Taylor's predictive Mercury is sextile her natal Venus. Look for her to actually fall in love. And if she doesn't? What's up with that?
This is simply the case of two people from opposite female emotional worlds. And the reason it's sometimes hard to like woman. They're both successful. What the hey?
For a private reading, contact melanie@xtrology.com. And please visit Xtrology on Facebook and Twittter.