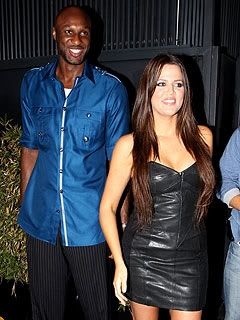 I think these two are a great couple. I would not want to see anything happen to their marriage. But negative aspects can threaten even the best couple.
Lamar Odom is a Scorpio, one the most difficult signs to marry since they have intense feelings and keep them locked inside. I predicted in my 2009 post that he had predictive Sun opposition Moon, but most likely (the Moon is the fastest moving planet so in predictive astrology the degrees can be wrong) it started two years ago when he is rumored to have gotten involved with drugs. This aspect can make you unhappy. You may not even know why. Currently he has predictive Sun conjunct Neptune so a substance abuse problem is definitely a possibility as Neptune rules drugs.
The good news, in four months (approximate, it's the Moon) his predictive Moon will conjunct Jupiter. It's the shortest of the positive Jupiter aspects, but it could help him come out of a negative spin. In eighteen months he will have predictive Mars conjunct Jupiter. It's a little while away, but it can save him if he needs to be saved.
Khloe Kardashian, a 6 degree Cancer Sun,  is getting killed by the Bite Me transit that I've been blogging about. With her natal Venus at 9 degrees Cancer, natal Mercury at 11 degrees Cancer, and natal Jupiter at 8 degrees Capricorn, she definitely is feeling it.
So there's tension. No one has filed for divorce. These two need to keep working on a solution. And let's hope that if there are drugs involved, it is not crack. Because black does crack when it comes to this evil and difficult to kick nightmare of a good time.
For a private consultation, please contact melanie@xtrology.com. And please visit Xtrology on Facebook and Twitter.