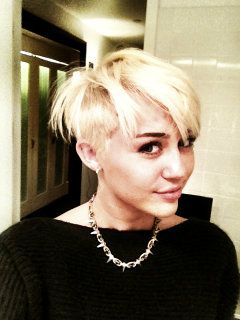 You want an outspoken person, try Miley Cyrus, a Sagittarius with Sagittarius rising. The twist is three planets in Scorpio, her Moon, Mercury and Pluto — yes, she's the Scorpio in Pluto generation. They are either going to save us or bury us. But these kids are powerful. So she's very honest and upfront and speaks her mind, but that Scorpio lends a lot of mystery and a touch of twistedness. The Moon in Scorpio is in its fall (check out astrology lessons at the top of the page). They are possessive, moody, intense and sexual. But her Sagittarius self is quite the opposite. That part of her is clean cut and boyish. So you can see where she gets her charm. She's unpredictable — not at all crazy and out-of-control as some tabloids are saying. And by the way, she really doesn't care what you think.
The future looks good for Miley. In two years, she gets her first Jupiter period when predictive Venus trines natal Jupiter. It will go on to trine her predictive Jupiter. Think Kardashian when you think Miley. She's going to be around for a long time — if that's what she wants. And reinventing herself won't be a problem at all. Sagittarius Sun is fearless and Scorpio Moon is a bottomless pit of unresolved issues. The combination is distinctly qualified to be famous.
To get in touch with me for a private consultation, please email melanie@xtrology.com. Xtrology is also on Facebook and Twitter where you'll find the Moon's daily aspects. This is a real astrologer, not a corporation. And please don't confuse me with Xstrology, my impersonator. Not me. Not real. And they don't make predictions or much of anything else.