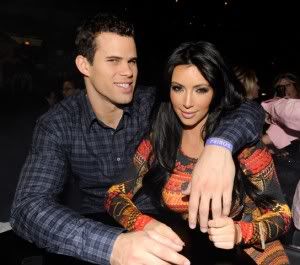 Kim Kardashian, TV reality star and Kris Humphries, NBA basketball star are getting married on August 20, 2011 — on television, of course.. Is this another made-for-TV marriage that gets stuffed down our collective throats?
Kim is a card carrying member of the ridiculously lucky Kardashian dynasty. She's been bathed in Jupiter prosperity for some time now. Her predictive Sun is sextile natal Jupiter and her predictive Jupiter has moved out-of-sign to conjunct her natal Saturn which creates a long term Jupiter cycle. You can count on her wedding being breathtaking with this prosperous astrology aspect. As a Libra girl, partnerships are top priority. Kim's focal planets are Mars (aggressive energy) and Neptune (can make ugly beautiful but gets a little lost on the way). And then with her Moon being in Neptune's sign, Pisces, Kim is a white-picket-fence romantic. She's living the dream, and it will be happily ever after — the embodiment of girlish Libra and dreamy Pisces.
Her husband-to-be, Kris fits in with the Kardashian clan quite nicely with his good fortune of natal Jupiter conjunct the Sun. He's Aquarius creating an Aquarius/Libra trine. He dodges the Venus in Aquarius bullet and instead has Venus in Aries. They adore their partners. No focal planets for him, so he's not that hard to please. There is a Venus/Mars conjunction in his chart that sometimes causes people to vacillate with a push/pull approach to partnerships. But he's met his match in Kim since it falls in her 4th House of Family.
February of next year will be an important date for these two. Kim will have predictive Venus conjunct her Sun. Any love she has for her husband will be renewed at that time and most important, it almost assures that a baby will be forthcoming.
For a private consultation, contact melanie@xtrology.com. And please visit Xtrology on Facebook and Twitter.

UPDATE1:  Over the 2011 Christmas holidays, Kim and Kanya announced she is having his baby. Also see the post KIM AND KANYA.