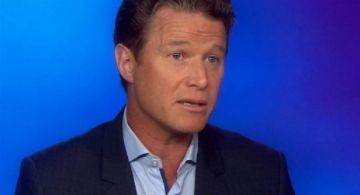 On October 7th, the WASHINGTON POST released a video from ACCESS HOLLYWOOD where presidential candidate Donald Trump said, among other things, "I just start kissing them. It's like a magnet. Just kiss. I don't even wait. And when you're a star, they let you do it, you can do anything… Grab them by the pussy. You can do anything." A disaster for women in general and for Billy Bush who was there with him going along.
Bush had just left ACCESS HOLLYWOOD to join the third hour of TODAY. But he's only been there two months and already the other players don't like him. He thinks he will be the next Matt Lauer, but his credentials don't quite measure up. He has been indefinitely suspended, but now, Billy, it looks like, "You're fired." A lot of people who have watched him over the years, me included, like him. He's a good natured guy and easy to listen to. But the question is his judgement — all important when you're speaking for a network.
Bush is Libra — all the way with his Sun, Mercury, Uranus and Pluto there. His Moon is in the show business sign of Leo, Mars in Aquarius. He's completely missing earth planets. It's not a huge problem. A lot of people will just marry a partner with a lot of earth. But in business, it can affect your judgment. Earth gives you weight. It puts your feet on the ground. It gives you a sense of being solid. Too much air — you're just flying around.
So management is now wondering what else is coming out? However, Billy has the big one — the protective predictive Sun conjunct Jupiter. Not everything goes your way in Jupiter, but when it doesn't, you will still see the benefits of this protective planet. This is definitely the reason he got his position at NBC — no question. And just to understand why this blip did happen, he also has predictive Sun (you) opposition natal Saturn (work). So both aspects, a negative one and a positive one, can happen at the same time. Now we have to wait to see how the Universe works. But add in free will. We all have it. I read today that he is planning to sue ACCESS HOLLYWOOD for leaking the tapes, and he is walking around L.A. in casual flip flops. That would not be my advice.
My prediction. He should survive this one way or another. But drop out and let Jupiter work for you. I worry he's getting in his own way.
If you would like a private consultation, contact melanie@xtrology.com. And please visit Xtrology on Facebook and Twitter. Your comments are always welcome!