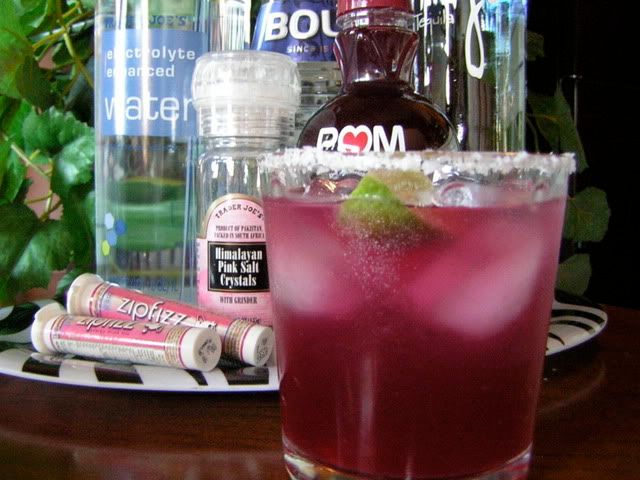 The Official Bubble Margarita:
Rub a quarter of a fresh lime around the rim of your favorite glass
Dip rim of glass into Himalayan pink salt crystals ground course
Add 1 oz. 100% agave tequila (Blanco is aged less than two months, Reposado is aged a minimum of two months, but less than a year and Anejo is aged a minimum of one year but less than three years).
Add 2 oz. pommengrante juice such as Pom Wonderful
Add our secret ingredient, 1/2 vial ZipFizz, berry flavor (Sam's Club or online)
Add 2 oz. electrolyte water such as Smart Water
Add a dash of Triple Sec or Curacao
Sir until powder dilutes
Add ice
Squeeze and throw in the lime wedge
You'll wake up the next day and wonder if you did something right or wrong? But here's why it's right. Himalayan pink salt crystals claim to have 84 natural minerals and elements found in your body and the added benefit of balancing your PH — and even claims to eliminate cellulite? Limes have Vitamin C. One hundred percent agave tequila has less sugar than mixto tequila. Both are made  from a cactus-like plant not related in any way to gluten. The anti-oxidants in pomegranates are two to three times higher than that of red wine or green tea. ZipFizz is an energy drink loaded with 25 high quality vitamins, minerals, electrolytes, and antioxidants and has 2 1/2 calories (1/2 vial). Triple Sec is mostly sugar, but it's made from dried peels of bitter oranges. Electrolyte water has potassium, calcium, and magnesium that will balance the salt and keep you from being bloated.
And it tastes amazing! It's the skinny, healthy margarita.